Dinnerware & Stoneware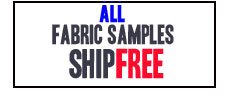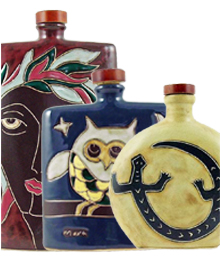 Mara Collectible Stoneware Decanters

Handcrafted to bring you the finest quality stoneware decanters by Mara.
Mara Collectible Stoneware Pitchers
Maras handcrafted stoneware pitchers are a collectors delight for their artistic look and the finest quality stoneware.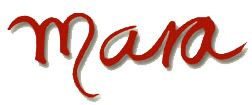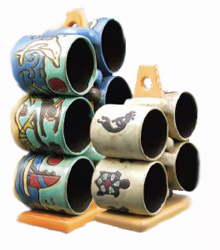 Mara Stoneware Round Coffee Mug
Gorgeous handcrafted stoneware mugs by Mara add a touch of whimsy to your dining experience. These stoneware coffee mugs are hand etched, glazed and finished. Microwave and dishwasher safe. Lead free.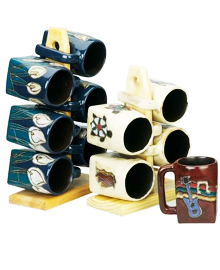 Mara Stoneware Square Coffee Mugs
Unique square mugs in beautiful colors and a variety of themes by Mara Stoneware. Each Mara stoneware mug is handcrafted to bring you the finest square stoneware coffee mugs. Maras square coffee mugs are sure to be a collectible for years to come. Square Bottom Mugs with round drinking area for convenience - 12 oz.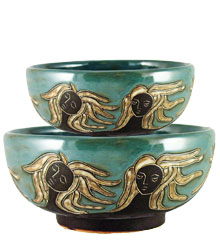 Mara Stoneware Serving Bowls
Decorative and useful serving bowls for everyday use or as a collectible and designed by Mara. Each Mara stoneware bowl is individually hand etched, glazed and finished. Microwave and dishwasher safe. Lead free.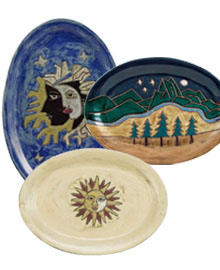 Mara Stoneware Serving Platters

Maras handcrafted serving platters are available in two convenient sizes. Use the 13 in. platter for vegetables and sides and the 16 in. platter makes a perfect centerpiece for almost all your larger food items. This durable stoneware is safe for microwave, oven and dishwasher use. Mara stoneware is sure to become a beloved piece of your collection for years to come.

Set a beautiful table with this unique stoneware and ceramic dinnerware. Whether you are looking for stoneware dinnerware, a stoneware dish, stoneware pottery, plates, bowls, coffee mugs, dinner plates or a decanter, it's all here at discount prices.

Looking for stoneware or ceramic dinnerware? Then step right up and take a gander at this delightful offering of a dishes and dinner plates, bowls and coffee mugs as well as serving platters. A wonderful selection of ceramic dinnerware featuring major NCAA college teams colors and logos is available along with stoneware pottery. The stoneware that is spotlighted is by Mara, known for it's great designs and colors along with a heavy, durable product that will last forever. This great grouping is offered to you at discount prices.