Specialty Curtain Rods
1-800-590-5844
Page 1 of 1



This selection of specialty curtain rods includes curtain ceiling tracks, magnetic curtain rods, flexible, curved and arched curtain rods, swing arm and crane rods, tapestry rods and curtain wire systems.
Ceiling Track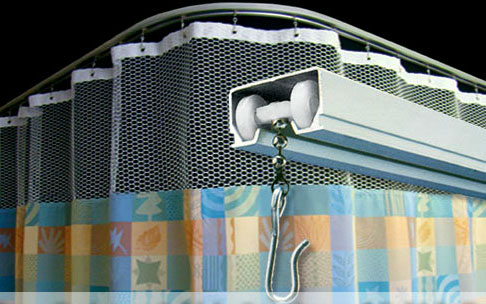 Curtain Tracks & Hardware
This collection of curtain tracks with hardware is ideal for a wide variety of uses including draperies and cubicle curtains. These curtain tracks are designed for ceiling as well as wall mount and include rigid metal tracks as well as curved and flexible curtain tracks. These curtain tracks are perfect for home use, especially when hanging large heavy draperies and for high ceiling applications. Cubicle curtain tracks that are used in hospitals are offered as well as buttery smooth traversing drapery track used in hotels. Hardware for installing these curtain tracks is offered for variety of different applications. If you need help selecting the right track for your particular use or are looking for cubicle curtains call our knowledgeable customer service representatives or
email us
for a quote.
View Ceiling Track
Contemporary Track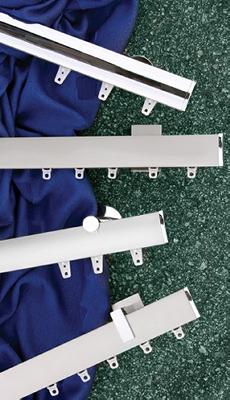 Contemporary Traverse Curtain Rods
Contemporary hand-traversing decorative tracks designed with extensive two - way and one-way draws in mind. Precision engineering and style unite in this highly useful contemporary traversing curtain rod collection.

View Contemporary Track


Flexible/Curved Rods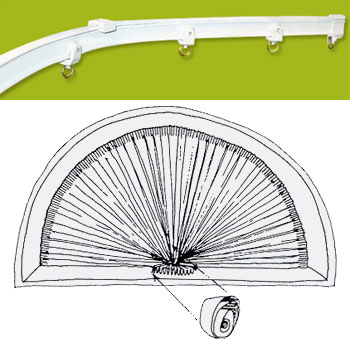 Flexible & Curved Curtain Rods - Arched Curtain Rods
This curtain rods collection includes a medium and heavy duty hand bendable, flexible curtain rod that will curve around bay and bow windows as well as having the ability to curve it into S shapes. Also included are curved curtain rods for arch, sunburst and porthole windows. Included are:
Arched Window Curtain Rods
Flexible Curtain Rods
Curved Curtain Rods
View Flexible/Curved Rods
Magnetic Curtain Rods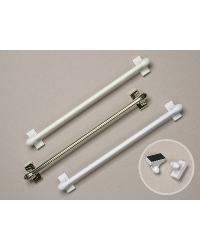 Magnetic Curtain Rods
These magnetic curtian rods allow you to hang cafe curtains without using tools. Magnetic curtain rods attach in seconds to all steel doors without adhesives, nails, screws, or tools. Magnetic curtain rods are ideal for sheers and light weight curtains and are available in several variations which include the smaller cafe and sash rods to the larger pocket dauphine rod to clear magnetic curtain rods. The magnetic cafe and sash rods are perfect for narrow door sidelights as well as standard size metal door windows. When using a sheer fabric and you don't want the rod to show, try the clear magnetic curtain rod for an uninterrupted look. Also included is a magnetic mini blind that is offered in 2 standard door window sizes.
View Magnetic Curtain Rods
Swing Arm Rods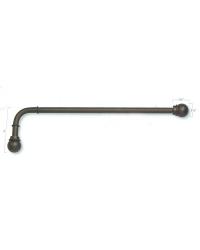 Swing Arm Rods & Crane Rods
Most curtain rods are attached to the wall or window trim on both ends. This is not the case with swing arm curtain rods. These unique rods are attached only on one side. When the draperies are closed, they appear like any other rod. But to open them, simply pull back on the rod or the draperies themselves and they swing like a door on a hinge. The rod is screwed into a bracket attached on the wall or window moulding and can open from either the left side or the right.
Many people choose swing arm curtain rods in areas where they want to open up the window to let in light or a breeze. Often you will see this type of window hardware used on the bottom half of cafe curtains in a kitchen, but they work well on draperies too. If you were to decoratively line draperies, for example, you could have them closed to display one colour of fabric, but when you swing them open and lay them flat against the wall adjacent to the window, you can display a completely new fabric and dress up the walls as well with swing arm curtain rods.

View Swing Arm Rods


Tapestry Rods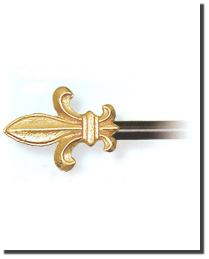 Tapestry Rods
The Tapestry Rods Collection includes decorative tapestry rods that are perfect for displaying tapestries. These tapestry rods make hanging your tapestries easy and add that decorative touch to accentuate your tapestrys. While the tapestry rods offered in this collection we're designed specifically for hanging tapestries, curtain rods offered in the wood and decorative curtain rod section can also be used for hanging tapestries.
View Tapestry Rods
Wire Systems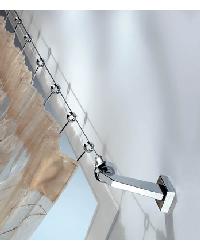 Curtain Wire Systems
These wire curtain rods are the ultimate in light-weight drapery hardware for sheers and other airy fabrics. A stainless steel wire tensioned between two decorative wall brackets holds the curtain with ring hooks or ring clips. These wire drapery rods for hanging your curtains or draperies have a modern more uncluttered look for todays contemporary home.
View Wire Systems
This selection of specialty curtain rods and hardware features ceiling curtain tracks for cubicle curtains and drapery in a variety of styles that includes flexible curtain rods. Also included are magnetic sash and cafe curtain rods as well as the wider 2 1/2" magnetic dauphine rod. For arched windows there are curved and arched rods to accomodate a variety of shapes. Tapestry rods to help highlight your tapestries are also offered in a variety of styles. For a modern look wire systems for hanging your curtains are available in cutting edge designs. Last but not least are the swing arm rods also called a crane rod that offer an easy way to swing open your curtains.