1-800-590-5844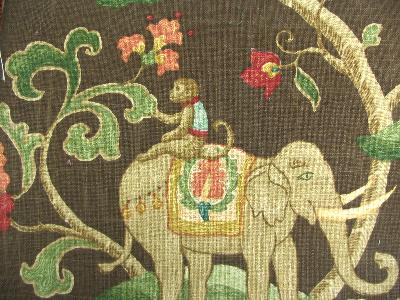 Mouseover to Zoom - Click to View Large Image

Located in Tupelo Mississippi, Magnolia Fabrics provides cut yardage decorator and designer fabrics.
Tocatin Brown
---
Item# 127496
$36.52
per yard
Retail: $49.90
Brown
54" Wide*Metric Conversions
55% Linen, 45% Rayon
27" H. Repeat
25.25" V. Repeat
Please note fabric features a large pattern repeat.
Dry Clean Only
Proudly Made In The USA

Uproll
Related Collections
Fabric Manufacturers > Magnolia Fabric
Animals Fabric > Jungle Safari
African Fabric > African
Fabric Trim & Tassels

International Shipping Information
All prices are subject to change without notice. We reserve the right to correct pricing errors.
All shipping and special processing charges are additional. Standard US shipping times are 7-14 business days unless otherwise noted above.
Ordering Information
Returns subject to re-stocking fee -
click here for complete policy
.
Be advised that computer images do not always represent color accurately and/or your monitor settings may affect color.
Fabric samples are recommended to confirm pattern and texture - please inquire about a CFA if color/dyelot needs to be confirmed.
We can have your fabric treated: Vinylizing - Material Backings - Stain and Antimicrobial Treatments - Fire Protection. Give us a call for a price quote.
We can ship your fabric to your drapery workroom or upholsterer - just put the correct information in the ship to address.
Inches
Centimeters
44 in
111.76 cm
54 in
137.16 cm
118 in
299.72 cm
1 yard = .9144 meters or 91.44 cm
1 in = 2.54 cm