1-800-590-5844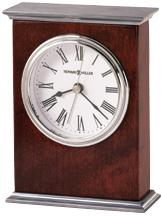 Item #: 37813
Kentwood Alarm Clock

Sold By:
Each
Dimensions:
H. 5-1/2" W. 4-1/4" D. 1-1/2"

Free Standard Shipping within the contiguous US
This carriage-style table alarm clock offers a nickel finished metal top and base.
The white dial features a polished nickel finished waterfall bezel, black numerals and hands, and silver second and alarm hands.
Quartz, alarm movement includes the battery.
Finished in Rosewood Hall on select hardwoods and veneers.
Retail:
$66.50
Price: $46.55
Related Collections
Clocks > Desk Clocks - Table Clocks
Clocks > Alarm Clocks

Domestic and International Shipping Information
All prices are subject to change without notice. We reserve the right to correct pricing errors.
All shipping and special processing charges are additional. Standard shipping times are 7-14 business days unless otherwise noted above.
Complete Ordering & Return Information
Returns subject to re-stocking fee -
click here for complete policy
.
Be advised that computer images do not always represent color accurately and/or your monitor settings may affect color.