1-800-590-5844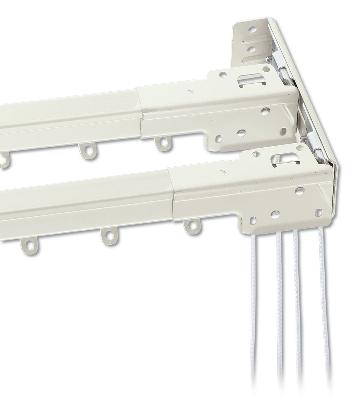 For 70 years, Graber has been providing beautiful, top-quality window treatments to help unlock your inner designer and bring style and sophistication to your home.
Item #: 64225
0-621
Super Heavy-Duty Double Traverse Rod

Projection:
2 - 3¼"(inner rod)
5¼ - 6½"(outer rod)
Clearance:
1¼-2½" Inner Rod
4½-5¾ Outer Rod
Return: 5¾-7" Outer Rod
Packed with cord-tension pulley.
Complete with brackets and center supports as required.
Strong .0165 gauge steel with contour tapered profile allows draperies to hang neater and provides smooth operation on the longest extensions.
Rod edges are deburred and rounded for smooth traversing.
Laced with continuous #3¼ braided cord.

Adjustable-Reversible Master Carrier
Vary drapery overlap on either master base. Overlap arm locks securely into one of six positions.
Reverses for one-way conversion with the adjustment of a single screw from front of rod.

Recommended Weight Limits
Up to 84" - 1½ lbs per foot; with 2 or more center supports - 2 lbs per foot
Over 84" - 1 lb per foot; with 2 or more center supports - 1½ lbs per foot

Traverse rods come as a 2-way center draw but can be converted to a one way left or one way right. This conversion can be done by you following our online instructions.


Related Collections
Traverse Curtain Rods > Super Heavy Duty Traverse
Decorative Curtain Rods > Extra Long Curtain Rods
Curtain Rods > Graber Curtain Rods

Domestic and International Shipping Information
All prices are subject to change without notice. We reserve the right to correct pricing errors.
All shipping and special processing charges are additional. Standard shipping times are 7-14 business days unless otherwise noted above.
Complete Ordering & Return Information
Returns subject to re-stocking fee -
click here for complete policy
.
Be advised that computer images do not always represent color accurately and/or your monitor settings may affect color.