1-800-590-5844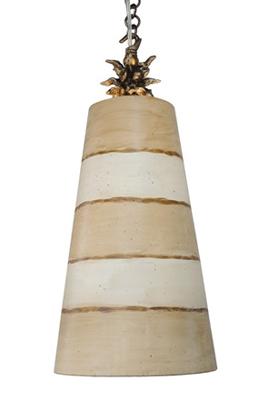 Flambeau unites sophisticated shapes and silhouettes with distressed finishes of gold and silver to create 21st Century antiques. These jewel-like lamps, chandeliers and sconces will add a touch of intrigue to any room.
Item #: 196802
Anemone II Pendant



Sold By:

Each


Dimensions:

Lamp: 5" x 14.5" x 8.75" - 6" Ceiling Cap, 12' Cord/Chain


Bulb Type: 3C 60W
Acrylic Diffuser

The taupe and cream striped glaze shade of this whimsical pendant is spiked with a gold leafed sculpted blossom element and gold ball finial.

Price: $298.00
Related Collections
Types Lamps > Pendant Lighting
Lamps > Flambeau Lighting
Style and Manufacturer > Contemporary Lamps

International Shipping Information
All prices are subject to change without notice. We reserve the right to correct pricing errors.
All shipping and special processing charges are additional. Standard US shipping times are 7-14 business days unless otherwise noted above.
Ordering Information
Returns subject to re-stocking fee -
click here for complete policy
.
Be advised that computer images do not always represent color accurately and/or your monitor settings may affect color.