1-800-590-5844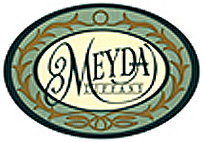 Every Meyda Tiffany item is a unique, handcrafted work of art. Natural variation in the glass and finish make each and every one a masterpiece all its own. Photographs are a general representation of the product. Colors will vary.
Item #: 62662
Van Erp Amber Mica Ironwork Table Lamp
Color: Amber

Sold By:
Each

Free Standard Shipping within the contiguous US
Please allow 2 to 3 weeks for shipping.
Amber Mica panels, created in the same method of combining translucent mica with shellac utilized by Dirk Van Erp in 1910, are suspended in a Mahogany bronze finished mission style frame. This handsome scrolled ironwork style table lamp, with Mahogany Bronze hand finished metal, will warm your home with the glow of the Amber panels.
Mission Style Amber Mica Table Lamp
Total Size: 23.5"H
Shade: 7"H x 14"W
Holds one 60W Bulbs
Retail:
$206.00
Price: $169.60
This Item Has Been Discontinued and is No Longer Available.
Related Collections
Types Lamps > Table Lamps
Style and Manufacturer > Meyda Tiffany Lamps

Domestic and International Shipping Information
All prices are subject to change without notice. We reserve the right to correct pricing errors.
All shipping and special processing charges are additional. Standard shipping times are 7-14 business days unless otherwise noted above.
Complete Ordering & Return Information
Returns subject to re-stocking fee -
click here for complete policy
.
Be advised that computer images do not always represent color accurately and/or your monitor settings may affect color.