1-800-590-5844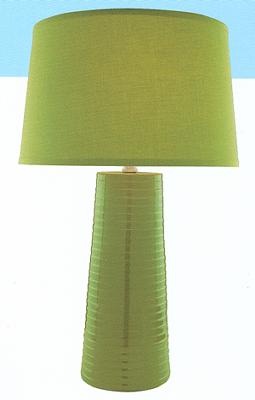 Lite Source, a leader in the lighting industry for over 27 years, offers some of the latest and most innovative new lamps available. Lite Source remains true to its commitment to provide you the largest selection of fashion forward lighting that is always in style.
Item #: 91744
Ashanti Ceramic Table Lamp - Green
Color: GRN

Sold By:
Each
Ribbed ceramic body with fabric shade
150 W Incandescent A Type Bulb
(Bulb NOT included)
3 way socket switch 27.25" tall 16" wide

This Item Has Been Discontinued and is No Longer Available.
Related Collections
Types Lamps > Table Lamps
Style and Manufacturer > Contemporary Lamps

Domestic and International Shipping Information
All prices are subject to change without notice. We reserve the right to correct pricing errors.
All shipping and special processing charges are additional. Standard shipping times are 7-14 business days unless otherwise noted above.
Complete Ordering & Return Information
Returns subject to re-stocking fee -
click here for complete policy
.
Be advised that computer images do not always represent color accurately and/or your monitor settings may affect color.