1-800-590-5844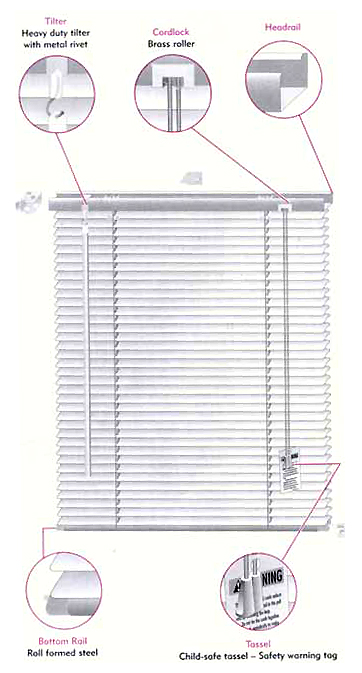 Headrail: Roll formed steel 1.070" width x .950" height x .024" thick.
Bottomrail: Roll formed steel .765" width x .385" height x .030"thick.
Wand: Clear extruded PVC Hex shape- .270" across flats.
Slat: Painted aluminum .006" thick x .970" width with a crown of .080".
Tape Roller Support: Injection molded plastic with metal roller minimizing cord fray.
Tape Roller: Injection molded plastic with ladder locking legs.
Tilt Rod: Plated steel- "O"shape .150" x .125"
Cordlock: Injection molded plastic. Smooth brass fixed roller. Knurled floating brass roller.
Tilter: Injection molded plastic housing with steel wand hook. Gear ratio of 9 to 1. Metal rivet for added strength.
Bottomrail Endcaps: Injection molded plastic with stem for hold down bracket.
Bottomrail Anchors: Injection molded plastic face .5" diameter- stem .375" diameter.
Slat Clip: Painted Aluminum.
Cord: Woven Polyester .070" diameter.
Ladder: Woven polyester .840" spacing x 1" width.
Center Support: Plated steel .040" thick.
Hold Down Brackets: Injection molded plastic.
Tassel: Injection molded plastic - bell shaped.
Mounting Bracket: Painted steel with hinged locking front cover.
Item #: 68643
1 Inch Aluminum Mini Blind



Sold By:

Each

1 Inch Aluminum Mini Blind
1 Inch Wide 6 Gauge Crease Resistant, Static Resistant Aluminum Slat
2-Year Waranty
Sturdy Steel Headrail
Double Slat Valance and Hold Down Brackets Included with Every Blind
Includes mounting brackets, hold down brackets and installation instructions.

Ideal choice for durability. Slats designed to spring back if pulled out of shape.
They are hung from a heavy-duty steel headrail for maximum support.
The Aluminum Mini Blind can easily be adjusted in length for a custom fit.

Length: Actual Length
Width: 1/2 Inch Factory Allowance
Blinds will be 1/2 Inch less than the width shown.