1-800-590-5844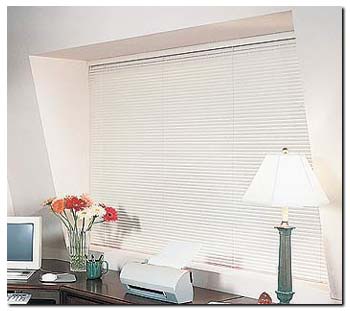 Headrail Size: 1 3/8" x 1½"
Minimum Mounting Space: 1"
Flush Mounting Space: 1¾"
Blinds Less Than 18" Have Split Controls
Item #: 87812
1 Inch Deluxe Metal Blind



Sold By:

Each



Free Standard Shipping within the contiguous US
Estimated delivery time is 2-3 weeks


1" Deluxe Metal Blinds - Custom Made
6 Gauge

Bring new fashion to your windows with our Deluxe 1" Metal Mini Blinds. The contoured valance integrated headrail adds simple sophistication to any window. The high quality, color-coordinated materials ensure long lasting durability. Limited Lifetime Warranty.
These metal mini blinds are custom made to the customer's exact specifications.

Retail:
$133.95
Price: $105.04
Inside Mount When you choose inside mount, that means the blind is intended for mounting inside the window and the factory will deduct 1/2" from the width measurement you have given. The valance will be 1/8" less than the measurement you have given. Length will be exactly as specified.
Outside Mount The width & length will be exactly as you have given. Valance will have returns to cover the side of the headrail. If you do not want returns on the valance, please specify size valance you want.
Note: Our professional installer recommends adding 1/2" to the measured length of every blind.