1-800-590-5844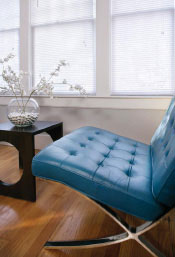 Headrail: Roll formed steel 1.070 in width x .950 in height x .024 in thick.
Bottomrail: Roll formed steel .765 in width x .385 in height x .030 in thick.
Wand: Extruded PVC Hex shape .315 in across flats. Color coordinated.
Slat: Extruded PVC .0165 in thick x .970 in width with crown of .160 in 90% opacity. Titanium dioxide additive for greater light blocking. Flammability testing passed NFPA 701 small scale test.
Tilt Rod: Plated steel O shape .150 in x .125 in
Tape Roller Support: Injection molded plastic with metal roller minimizing cord fray.
Tape Roller: Injection molded plastic. Smooth brass fixed roller. Knurled floating brass roller.
Cordlock: Injection molded plastic housing with steel wand hook. Gear ratio of 9 to 1. Metal rivet for added strength.
Bottomrail Anchors: Injection molded plastic face .500 in diameter - stem .375 in diameter.
Bottomrail Endcaps: Injection molded plastic with stem for hold down bracket.
Slat Clip: Painted aluminum.
Cord: Woven polyester .070 in diameter.
Ladder: Woven polyester .790 in spacing x 1.000 in width.
Center Support: Plated steel .040 in thick.
Hold Down Brackets: Injection molded plastic.
Tassel: Injection molded plastic - bell shaped.
Mounting Bracket: Painted steel with hinged locking front cover.
Item #: 110812
1 Inch Vinyl Plus Mini Blind



Sold By:

Each

The reinforced 1 in. Vinyl Plus Mini Blind has all the same great features of our regular blind further enhanced with steel head and bottomrails and premium room darkening, warp resistant PVC slats.

Designed for durability, the 1 Inch Vinyl Plus Mini Blind withstands heavy-duty abuse without compromising design.


All widths are 1/2 in. less than stated size to allow for inside mounting.