1-800-590-5844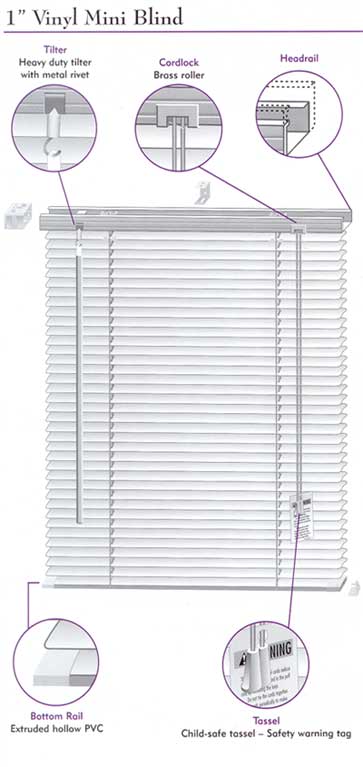 Headrail: Extruded PVC 1.135 width x .935 height x .070 thick for widths up to 68". At 69" and wider the headrail measures 1.5" widht x 1.5" height x .070 thick.
Bottomrail: Extruded hollow PVC 1.035" width x .450" height x .055" thick.
Wand: Extruded PVC Hex shape- .315" across flats. Color coordinated. 31 in. L
Slat: Extruded PVC .0197" thich x .970" width with crown of .160". 75% opacity. Flammability testing passed NFPA 701 small scale test.
Tape Roller Support: Injections molded plastic with metal roller minimising cord fray.
Tape Roller: Injection molded plastic with ladder locking legs.
Tilt Rod: Plated steel- "D"shape .150" x .125"
Cordlock: Injection molded plastic. Smooth brass fixed roller. Knurled floating brass roller.
Bottomrail Endcaps: Injection molded plastic.
Bottomrail Anchors: Injection molded plastic face .5" diameter- stem .375" diameter.
Slat Clip: Painted Aluminum.
Cord: Woven Polyester .070" diamter.
Ladder: Woven polyester .840" spacing x 1" width.
Center Support: Plated steel .040" thick.
Hold Down Brackets: Injection molded plastic.
Tassel: Injection molded plastic - bell shaped.
Mounting Bracket: Color coordinated injection molded plastic. Suitable for inside or outside mount. 11/30/06 added 2 white to stock LO
Item #: 67301
1 Inch Vinyl Mini Blind



Sold By:

Each

26x72 1 Inch Vinyl Mini Blind
1 Inch Wide Static Resistant, Fade Resistant PVC Slats
3-Year Waranty
Double Slat Valance and Hold Down Brackets Included with Every Blind
Includes mounting brackets, hold down brackets and installation instructions.

Perfect choice for its simple looks, time tested performance and easy to clean vinyl material.

Length: Actual Length
Width: 1/2 Inch Factory Allowance
Blinds will be 1/2 Inch less than the width shown.

Price: $15.86